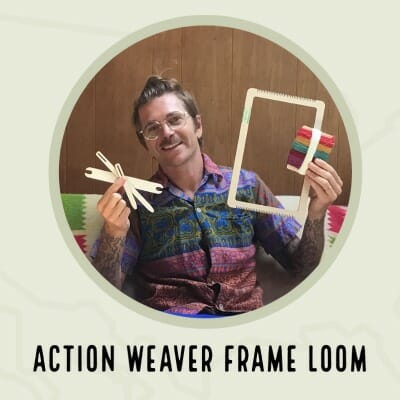 Action Weaver Frame Loom Kit & Tutorial
Learn to weave & create your own textile art with the Action Weaver Frame Loom Kit and how-to video!Looms will be available at the Library on July 6th while supplies last. One kit per household.The tutorial video will be available to view July 6 - 31.From the woods of west Marin, Travis (Action Weaver) makes and distributes fabric, looms, and weaving […]
Learn to weave & create your own textile art with the Action Weaver Frame Loom Kit and how-to video!
Looms will be available at the Library on July 6th while supplies last. One kit per household.
The tutorial video will be available to view July 6 – 31.
---
From the woods of west Marin, Travis (Action Weaver) makes and distributes fabric, looms, and weaving lessons. He's displayed work internationally including the Rijksakademie Amsterdam, the Whitney Museum, and Fairfax Library.