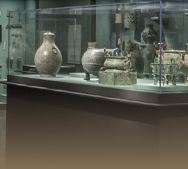 Asian Art Museum Masterpieces
Join us for a lecture on masterpieces at the Asian Art Museum, presented by museum docent Yoshi Fukamiya. 
The Asian Art Museum has a vast collection of many masterpieces from China, Japan, Korea and Southeast Asia.  
Docent Yoshi Fukamiya has selected several pieces to discuss with us.
What makes a work of art a masterpiece and who makes this decision? Do we, the viewers agree all the time?
Join us to talk about these concepts and choices.
---
Yoshi Fukamiya was born in Tokyo, Japan and immigrated to the US when he was 19 years old.
 He majored in architecture in college though he did not pursue to be an architect. He joined the Asian Art Museum docent program in 2011.