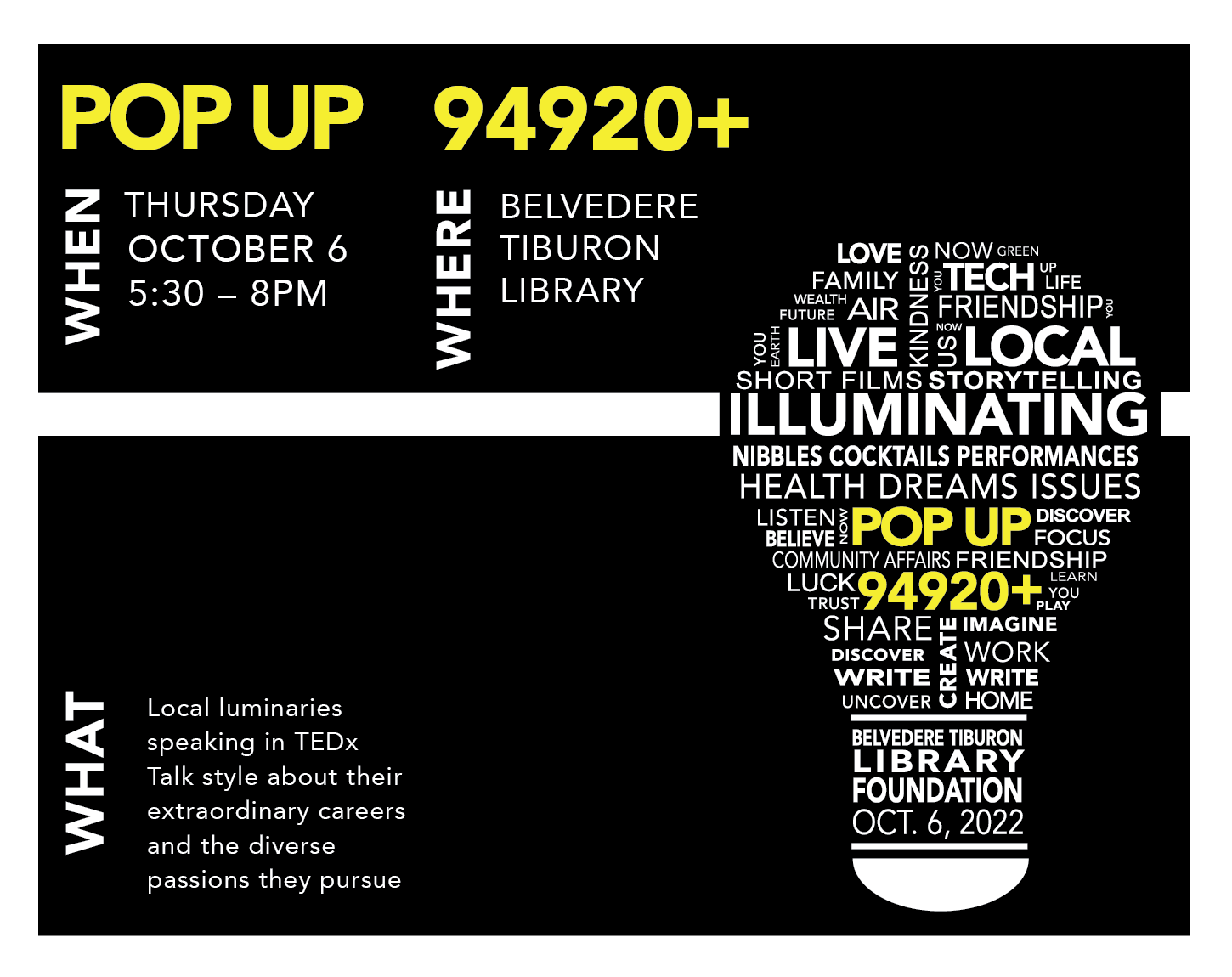 Pop Up 94920+
Live, Local, Illuminating. Where hometown luminaries talk about what they do and why. Get your tickets now!
We are excited to host POP UP 94920+ again after a two-year Covid hiatus. We feature local luminaries speaking in TEDx Talk style about their extraordinary careers and the diverse passions they pursue. 
Read about the hometown luminaries presenting at the next Pop Up 94920+.
DETAILS: 
5:30-6:30 – Wine and small appetizers will be served during this gathering social time
6:30-8:00 – Speakers will present

Past POP UP 94920+ speakers have included Academy Award-winning producers, storytellers, novelists, musicians, Pixar animators, entrepreneurs, pilots, designers, publishers, pioneering medics and scientists, climate activists, a renowned investigative journalist, and one of San Francisco's prima ballerinas. 
POP UP 94920+ aims to present a varied program with subjects ranging from momentous to whimsical. 
POP UP 94920+ is an essential fundraiser for our library, exemplifying its commitment to learning and keeping current. We are indeed  LIVE, LOCAL, and ILLUMINATING!
---

All proceeds support the programs and services of the Belvedere Tiburon Library.
As this event is a Fundraiser:
TICKETS ARE FINAL SALE AND NON-REFUNDABLE
Belvedere Tiburon Library Foundation
A 501 C-3 Not for profit corporation
Tax ID # 68-0280552