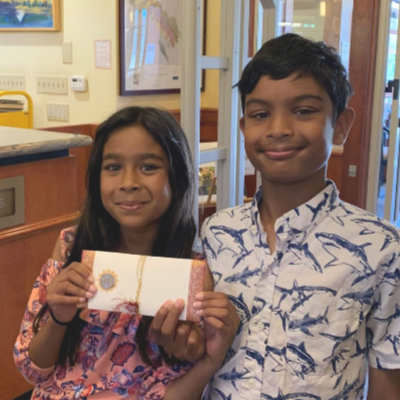 August 8, 2019
By jdunn
Jump on the Bandwagon!
Our local kids get involved
Jeevan and Sahitya Raghupathy are fully on board with the Library expansion. The local brother and sister library regulars held a bake sale recently near a community event and raised over $200 which they presented to library staff to go toward the expansion. Thank you Jeevan and Sahitya!
Another donation from proceeds left from the softball season Snack Shack at Del Mar School was given to the Foundation for the new building. Many thanks to the Held Family – Anna and Charlie, for pitching in (pun intended) on this great community project!
Now that construction will begin soon, Jeevan, Sahitya, Anna, and Charlie, along with all the other children and teens in our community, will have beautiful new spaces to use and enjoy while they are still young.
All donations, large and small, are greatly appreciated. Please keep them coming!