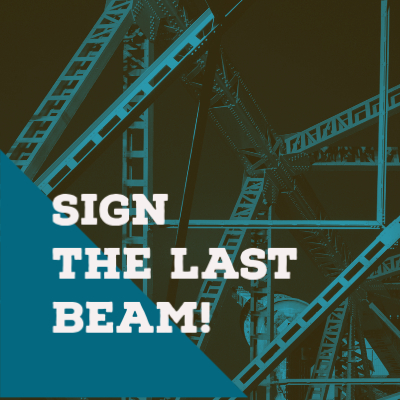 June 18, 2020
By isilva
Sign the last beam
Join us to mark a historic milestone
The "last beam" for the new Library building will be installed next Wednesday, June 24th.
Before the beam is lowered in and permanently placed, we want to give our community the opportunity to memorialize it with individual signatures.
The beam will be available to sign on Monday, June 22nd from 10 AM to 2 PM and on Tuesday, June 23rd from 10 AM to 2 PM in front of the Library construction site adjacent to Town Hall.
A staff member will be there to greet you. All are welcome to sign the beam and your donations are greatly appreciated! 
Please note that all social distancing guidelines will be followed for this event.
We will have disposable gloves to wear to eliminate person-to-person contact with the Sharpies (or feel free to bring your own).
We hope you will come see the new Library taking shape and join us on Monday or Tuesday to mark an historic milestone in the life of the Library's construction!