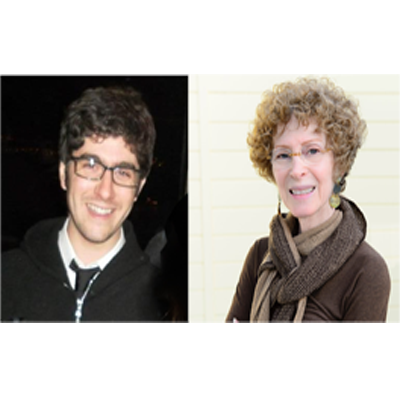 February 8, 2017
By isilva
Welcome new staff to the library family
Joey Della Santina and Linda Bennett
Welcome Joey and Linda!
Joey Della Santina
Who is that familiar-looking young man sitting at the Reference Desk? He is the library's newest Reference Librarian, Joey Della Santina.
Joey worked at our library several years ago in the Circulation Department, mostly shelving books. Since then he graduated with an MLIS degree from San Jose State University's School of Information and worked for three years at the College of Marin library in increasingly higher-level positions.
He comes to us with a background in graphic arts as well as his library training, and is a talented photographer.  
And in case you are wondering, he is part of the renowned Della Santina family that owns and runs Marin Joe's in Corte Madera, and the Aversas family of La Ginestra in Mill Valley, where he tends bar when he's not working his day job.
Please welcome Joey to his new library family.
Linda Bennett
Linda Bennett has been a loyal, weekly sub at the Belvedere Tiburon Library Reference Desk since the summer of 2013, covering often on short notice for regular staff.
We are now fortunate to hire her on a more permanent, part-time basis starting this month.
Linda was the Middle School Teacher Librarian and Information Literacy/Technology Use Group Coordinator for the Kentfield School District for 24 years before taking early retirement, when she decided to resume service in public libraries where she began her career.
You may have seen her on the reference desks of many of Marin County's libraries.
She is very knowledgeable about library resources, and is especially good at helping patrons of all ages find the perfect book, as well as assisting them with their digital device questions.
Linda and her husband Dr. Louis Rappaport often visit Paris, their alternate reality. Stop by the desk and say, "bonjour" and "bienvenue" to Linda.